Frequently Asked Questions: Fabrics & Finishes
Fabrics & Finishes
What is the difference between a painted and stained wood finish?
A painted finish coats the top of the wood; a stained finish penetrates the wood, preserving its natural look.
What are "dual-sided" fabrics?
Dual-sided fabrics have a white backing. All Serena honeycomb shade fabrics and certain roller shade fabric collections are "dual-sided". When dual-sided fabrics are selected, every room in the home can have a signature look on the inside and still maintain a uniform appearance on the outside. The white backing also helps reflect the sun's rays, reducing HVAC costs and saving energy.
What are the wood blinds made from?
Serena wood blinds are made from real, American basswood that have been painted or stained in a variety of color options.
What is the material type and the durability of the fabric used?
All Serena honeycomb and roller shades are made of 100% polyester or polyester/vinyl material and have proved durable under various testing conditions such as high heat and humidity levels.
Are shade fabrics currently fire rated?
The Bistre and SheerLite families in our roller shade offering are fire rated. Please call a Serena shades specialist for more information.
What does "R Value" mean for Serena insulating honeycomb shades?
"R value" is a measurement of thermal resistance – basically, how well something provides insulation. Larger R values mean better insulation, which translates to lower heating and cooling costs. Serena honeycomb shades have a fantastic R value – as high as 4.3. A typical double-pane window has an R value of 2.0, so adding a Serena shade can significantly increase the insulation of a window.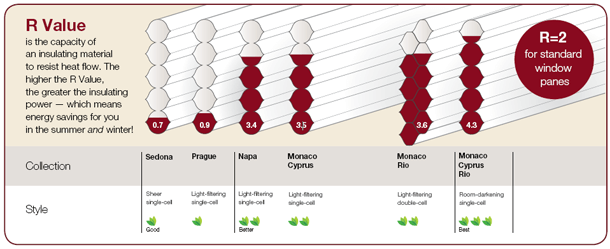 Do these shades completely block sunlight from entering a room?
Our room-darkening and blackout fabrics prevent light from passing through the shade material. Depending upon the style and installation of the shade, gaps (light that can enter a room through the space between the edge of the shade and the window frame) may allow some light in around the edges of the window. Please refer to the chart below for further details:

How do I clean the fabric?
Regular Cleaning
Dust with a feather duster
Lightly vacuum fabric with a brush type vacuum attachment
Soil Removal
Sponge with a mild detergent and warm water solution and blot dry
Blot with a solution of 1 part mild detergent and 3 parts warm water, then blot dry
Important Notes
Use extra care when cleaning honeycomb room-darkening fabrics, as the fabric could become permanently creased
Do not use strong detergents or spot removers
We don't recommend dry cleaning or ultrasonic cleaning
See All FAQs